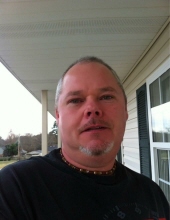 Obituary for Adam Monroe Wilson
Adam Monroe Wilson, age 43 of Alabama, died Sunay, July 1, 2018. He enjoyed wood working.
Adam was preceded in death by his grandparents; Shirley & Bernice Wilson and Carl L. Smith.
He is survived by his wife, Angela Patton Wilson of Moulton, Alabama; 6 children, Conner and Keegan Jones, Payslee Patton of Moulton, Alabama, Jessica Hallmark, John and Josh Bullock of Muscle Shoals, Alabama; parents, father Kenneth Wilson (Barbara Howard) of Pikeville and mother Jennifer (Bill) DeGraw of Muscle Shoals, Alabama; grandmother, Willa Dean Smith of Pikeville; Step-sister, Carla Blankenship of Town Creek, Alabama; 2 Brothers, Lebron (Denise) Wilson of Pikeville and James Wilson (Brianna Hatfield) of Dunlap, Tennessee; Niece, Kamree Wilson of Dunlap; 3 Nephews, Turk (Desirae), Jonathan and Larry Wilson of Pikeville; five Grandchildren, Kaiden, Brynlee, and Zaylie Hallmark; Riley and Raelynn Bullock of Muscle Shoals, Alabama; several aunts, uncles, cousins, and a host of friends.
A celebration of life will be 1:00 pm CDT Saturday, July 7, 2018 in the funeral home chapel. The family will receive friends 10:00 am until service time Saturday. Burial will be in Keener Hill Cemetery.
Condolences can be made at www.pikevillefuneralhome.com. Pikeville Funeral Home was entrusted with arrangements.