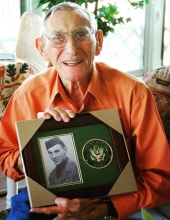 Obituary for Albert Finley George
This world lost a great man today. Albert Finley George (A.F.), age 97 of Pikeville, died Sunday, January 22, 2017. He lived through hard times like today; we can't imagine. He survived a gun shot at four years old, lost his father at age nine which left him growing up and working hard with his brothers in a group which built the Great Smokey Mountains National Park to what it is today. He married the love of his life, Agnes Bickford George seventy- five years ago last year. He went to war and sharpened his bayonet for General Patton, stood guard for President Roosevelt and Winston Churchhill, and shook hands with Dwight Eisenhower. He earned a purple heart for surviving a blast from a German anti-tank cannon in France. He will be buried with shrapnel from the battlefield still in his body. He will be greatly missed by all as he lived a life- long example of how a gentleman overcomes adversity. As a business man of twenty- two years, he and his wife owned and operated G and W furniture store. He was a member and attended Wheeler Hill Church of Christ. Preceding A. F. in death were his parents, Albert and Susie George, three brothers, Lawerence, Ed, and Burl; sister Evelyn Ferguson; sisters in law Goldeena, Darlene, Hattie and Ruth George.
Left to cherish A. F.'s memories is his wife, Agnes George; children, Denny (Carla) George, Dunlap, Mary (Jim) Hall, and Freddy (Sharon) George, Pikeville, six grandchildren; Isreal, Greta, Sumor, Kris, Jeremy, Daniel; four great- grandchildren; Layla, Ian, Baylor, Finley; two brothers James and Bill (Betty) George; many nieces, nephews, and friends; and special friends, Brenda (Conrad) Moore.
A Celebration of A. F.'s Life will be 12:00 pm CST Tuesday, January 24, in the funeral home chapel with Brother Bobby Collier officiating. Burial will be in Wheeler Hill Cemetery. The family will receive friends 4-8 pm CST Monday, January 23 at the funeral home and 9am until service time Tuesday, January 24.
Condolences can be made at www.pikevillefuneralhome.com
Pikeville Funeral Home was entrusted with arrangements.
Read More
Cemetery Details
Location
Wheeler Hill
97 Rufus Anderson Rd
Pikeville, TN 37367