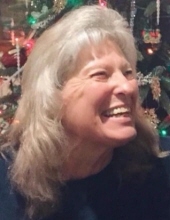 Obituary for Becky Lynn DeBord
Becky Lynn Harp Pankey, age 60 of Pikeville, died Tuesday, May 17, 2022. Becky loved God and was selfless, caring, and would help anyone she came in contact with before taking care of herself. She worked at Fred's for several years as a cashier, loved her family, cats, crocheting, cooking, being out in nature, karate, and county music "especially Patsy Cline".
Preceding Becky in death was her husband, Edward Pankey; parents, Jesse Earl and Mary Joe Rose Harp.
Left behind to cherish her memory is her daughter; Anita (Joaquin) Parra; sons, Donnie Lynn (Jessie) DeBord, Kristopher Garrette " Gator" DeBord; grandchildren, Sophie, Timothy, and Evie; special children she took care of as her own, Alex, K J, Corby; brother, Davis (Missy)Harp; sisters, Deborah (Ray) Payne; Jean (Jimmy) DeLay, Kate DeBord, Virginia (Sam) Roberson; several nieces, nephews, cousins, and a host of friends.
A memorial service will be 1:00 pm CDT Tuesday, May 24, 2022 at Pikeville Funeral Home with Bro. Donnie Lynn DeBord officiating. The family will visit with friends 12:00 until service time. In lieu of flowers the family request donations be made in her honor to a Kidney Center.
Condolences can be made at www.pikevillefuneralhome.com. Pikeville Funeral Home was entrusted with arrangements.