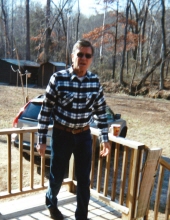 Obituary for Billy Dean Sexton
Billy Dean Sexton, age 75 of Buchanan, TN, died Wednesday, October 24, 2018. Billy was a machinist at a drapery and bedspread factory for around twenty years. He enjoyed fishing, gardening, was an artist, and attended Full Gospel Church in Paris, TN. Billy could not sit still as he had to be working at something all the time.
Billy was preceded in death by his parents, Roy and Nancy Christine Looper Sexton; brothers, Harold and Doyle Sexton; brother-in-law, Bill Harbin.
Survivors include his wife of ten years, Jewell Holloway Sexton; three sons; one step-son; four grandchildren; brother, Jerry (Marsha) Sexton, Bean Station; sisters, Fay Harbin, Morristown, Carolyn (Bobby) Jarnigan, Talbott, Sheila (Carl) Jones, Williamsburg, VA, Barbara (David) Aldridge, Bean Station, Wanda (Jay) Brady, Morristown, Yvonne Cooper, Talbott; several nieces, nephews, cousins, and a host of friends.
A celebration of life will be 2:00 pm CDT Friday, October 26, 2018 in the funeral home chapel with Bro. Dennis Irby and Bro. Ronnie Holloway officiating. Also speaking will be his brother, State Representative Jerry Sexton. Burial will be in Worthington Cemetery. The family will receive friends 6:00-9:00 pm CDT Thursday, October 25, 2018.
Condolences can be made at www.pikevillefuneralhome.com. Pikeville Funeral Home was entrusted with arrangements.
Read More