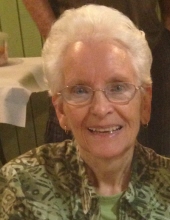 Obituary for Carolyn Angel Roberson
Carolyn Jane Angel Roberson, age 89 of Pikeville, died May 7, 2019 with her children by her side. During her lifetime she worked for Johnny Vaughn Chevrolet, Taft Youth Center, Plymouth/ Dodge Place in Pikeville, Jim Walter's Homes of Pikeville, Bledsoe Memorial Hospital and then the City of Pikeville where she retired. Carolyn was a member of First Southern Baptist Church, serving as secretary for several years. She was a faithful Christian and a very Patriotic woman, a good neighbor, friend, and sole provider for her children. She was a 1947 graduate of Bledsoe County High School then went on to become a graduate of McKenzie Business College. She enjoyed listening to her children and grandchildren sing, loved genealogy, flowers, birds especially her hummingbirds.
Preceding her in death were her parents, Oza S. and Corda Mae Miller Angel; brother, James W. Angel; sister, Dortha Hutcherson; granddaughter, Courtney Jane Cagle.
Carolyn will be dearly missed by her children whom she loved unconditionally, Sheila (Phillip) Cagle, Bobby Roberson (Carolyn Lawson), Jackie (Kathy) Roberson, Roy (Rhonda) Roberson; grandchildren, Joshua Roberson, Melissa (Nick) Mooneyham, Chad (Cara) Roberson, Alicia (Mitch) Fuller, Candi (Michael) Stults, Carrie (Thom) Hassler; great-grandchildren, Nolen and Luke Mooneyham, Charlie and Carrigan Jane Roberson, Raylee and Easton Fuller, Briley Anna (Gage) Frady, Halen and Hayes Hassler; brother-in-law, Joe B. Hutcherson, Jr., Soddy; sister-in-law, Betty Angel, Chattanooga; special daughter, Beulah Songer; several nieces, nephews, cousins, and a host of friends.
A celebration of life will be 11:00 am CDT Friday, May 10, 2019 in the Pikeville Funeral Home chapel with Bro. Albert Roberts and Bro. Thom Hassler officiating. Burial will be in Iron Hill Cemetery. The family will receive friends 2:00-9:00 pm CDT Thursday, May 9, 2019. In lieu of flowers donations can be made in Carolyn's honor to the American Legion and VFW. Condolences can be made at www.pikevillefuneralhome.com. Pikeville Funeral Home was entrusted with arrangements.