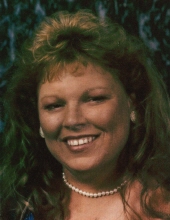 Obituary for Cassandra Faye Limes
Cassandra Faye Singleton Limes, age 50 of Graysville, died Wednesday, January 19, 2022. Cassandra was of the Christian faith, loved her grandbabies, enjoyed family get togethers, family game nights, collecting angels, and planting flowers.
Preceding Cassandra in death was her daughter, Illa Angel Blaylock; grandson, Kannon Ridge Edmonds; grandparents, James Angel, Dorothy Cooley, and Bobby Singleton.
Cassandra will be dearly missed by her wife, Angela Rena Moore Limes; daughters, Rita Cheyenne Limes, Amelia Faye (Alex) Edmonds; Alexis Epperson, Chelsea Moore; mother, Connie Angel (John) Way; father, Bobby Leon Singleton; brothers, Denny Leon (Chris) Singleton, Garry Bryan (Jillian) Songer; grandchildren, Bentley and Kinleigh Edmonds; grandmother, Edna Singleton; several aunts, uncles, nieces, nephews, cousins, and a host of friends.
A celebration of life will be 1:00 pm CST Saturday, January 22, 2022 in the funeral home chapel. Burial will follow in Blaylock Cemetery. Those serving as pallbearers are Alex, Stanley, and Colton Edmonds, Denny Singleton, Bryan Songer, and David Morgan. The family will receive friends 12:00-8:00 pm CST Friday, January 21, 2022 at the funeral home. In lieu of flowers the family request donations be made to Pikeville Funeral Home to help with final expenses.
Condolences can be made at www.pikevillefuneralhome.com. Pikeville Funeral Home was entrusted with arrangements.