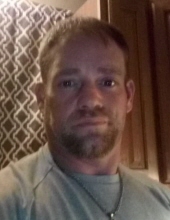 Obituary for Charles Randell Swafford
Charles Randell Marvin Swafford, age 40 of Pikeville, died February 21, 2022. Charlie attended Summer City Baptist Church. He was self employed, liked his junk food, big trucks, and the outdoors.
Preceding Charlie in death was his mother, Nettie Kay Dangler Swafford; nephew, Grant Thomas Judkins; uncle, Thomas James Swafford.
Left behind to cherish his memory is his loving wife, Sasha Renee Bock Swafford; sons, Dylan Anderson, Tyler Swafford; daughter, Alisha Swafford; father, Amos Randell (Patsy) Swafford; sister, Edwinna Ruth Swafford; grandson, Eli Bryson Anderson; aunts, Virginia McGee, Irene Smith, Shirley Swafford, Vivian Wooden, Donna Friar; uncles, Mack Swafford, Gary Swafford; nieces, Ashley, Brittany, and Emilee Hickman; nephews, Jacob and Trevor Hickman; cousins, and a host of friends.
A celebration of life will be 3:00 pm Thursday, February 24, 2022 in the Pikeville Funeral Home Chapel with Bro. Jeff Swafford officiating. Burial will be in Summer City Cemetery. Those serving as pallbearers are Shawn Wooden, Walt Gothard, Tra Gadd, Travis Swafford, Trevor Hickman, and Johnny Swafford. The family will receive friends 2:00pm CST until service time at the funeral home. In lieu of flowers the family request donations be made to Pikeville Funeral Home to help with final expenses.
Condolences can be made at www.pikevillefuneralhome.com. Pikeville Funeral Home was entrusted with arrangements.