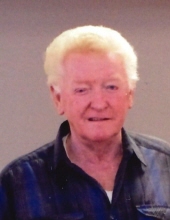 Obituary for Cleo Martell Morgan
Cleo Martell Morgan, age 73 of Evensville, died Friday, January 1, 2021. He was a member of Frostbite House of Prayer. Cleo farmed all his life as well as owning his own timber/logging business for forty-five years, enjoyed horse-back riding, fishing, any type of hunting, loved to eat and spend time with his family and friends.
Preceding Cleo in death was his wife, Virginia Walker Morgan; daughter, Nikki Morgan, parents, Harris Dee, Sr. and Beulah Lillian Dannel Morgan; brothers, Ralph Morgan and Harris Dee "Shorty" Morgan, Jr.
Left behind to cherish his memory is his daughter, LaSchelle (Tim) Riggs; grandchildren, Byron McVay, Desiree McVay, Lauren Hale, Mandi (Jeremy) Revis; great-grandchildren; Zachery Hardin and Laiken Hale; brother, Larry (Brenda) Morgan; sisters, Imogene Rigsby, Gallatin, Gereldine (Horace) Frazier, Murfreesboro; life-long friends, Robert and Dean Swafford; several nieces, nephews, cousins, a host of friends.
A celebration of life will be at 2:00 pm CST Monday, January 4, 2021 in the funeral home chapel with Bro. Paul Daniels officiating. Burial will be in Summer City Cemetery. The family will receive friends 12:00pm until service time. In lieu of flowers donations can be made to Frostbite House of Prayer. Please follow CDC regulations.
Condolences can be made at www.pikevillefuneralhome.com. Pikeville Funeral Home was entrusted with arrangements.
Read More