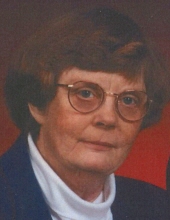 Obituary for Clydia Mae Goins
Clydia Mae Tidwell Goins, age 85 of Pikeville, passed away Tuesday, February 12, 2019. She loved to read, crochet, quilt, and camp.
Clydia was preceded in death by her husband, Robert Louis Goins; parents, Golden Dow and Nona Anderson Tidwell; son, David Goins; brother, Ben Tidwell; sister, Jackie Myers.
Survivors include her daughters, Julie (Noel) Wright and Carla C. Tyra; six grandchildren, fourteen great-grandchildren; several nieces, nephews, cousins, and a host of friends.
A celebration of life will be 2:30 pm CST Friday, February 15, 2019 in the funeral home chapel with Bro. William T. Goins officiating. Burial will be in Iron Hill Cemetery. The family will receive friends 2:00-2:30 pm CST Friday, February 15, 2019.
Condolences can be made at www.pikevillefuneralhome.com. Pikeville Funeral Home was entrusted with arrangements.
Read More