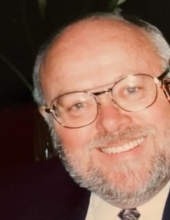 Obituary for David Omar Conger, III
David Omar Conger, III, age 82 of Hudson, Florida, formerly of Pikeville, passed away Tuesday, March 14, 2023. In his twenties, he loved racing corvettes in stock car races. He loved living in the Virgin Islands with Jan. David loved helping people, especially if it involved using a tool (and if he didn't have it, he would buy it). He always enjoyed a drive in the car just to see something new or even to reminisce about the past.
David was preceded in death by his wife of fifty-one years, Janet Darlene McMullen Conger; parents, David Omar and Edith Melzeni Kenimond Conger, Jr.; sister, Judith Conger Interval; brother-in-law, Richard Interval.
David is survived by his daughter, Susan Conger (Thomas Alan) Rosenstiel; grandchildren, Henry and Elizabeth Rosenstiel; brother, Robert Conger; cousins, Kenneth Jones, Sonna Agnew, and Connie Simon; niece, Yvonne Interval (Rodney) Frith; and numerous friends.
A celebration of life will be 10:30am CDT Saturday, April 22, 2023 in the Pikeville Funeral Home Chapel with Marcel Tart officiating. The family will receive friends 10:00am until service time at Pikeville Funeral Home.
Condolences can be made at www.pikevillefuneralhome.com. Pikeville Funeral Home was entrusted with the arrangements.
Read More