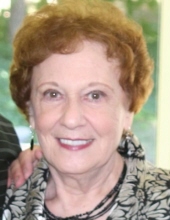 Obituary for Delma A Mayes
Madison, AL resident and Van Buren County, TN native, Delma Ann Scarbrough Mayes , age 81, was born June 19, 1940 and died suddenly and unexpectedly on December 10, 2021.
A beloved daughter, sister, spouse, caregiver, mother, aunt, grandmother, great grandmother, friend and member of Monrovia Church of Christ, she was preceded in death by her high school sweetheart James Mayes whom she married on September 3, 1960.
Her straight forward manner, honesty, wit, sense of adventure, love for her family and love for the Lord were among her most endearing qualities making her the extraordinary woman we remember. She worked hard throughout her life for her family and accomplished many things. However, nothing made her more proud than her grandchildren and her great-grandchildren. The overwhelming joy they brought her was evident to anyone who met her.
In addition to her husband, she was preceded in death by her parents Fred Nolan and Lola Irene Dotson Scarbrough and in-laws, Thomas Jefferson and Minnie Shockley Mayes.
She is survived by two sons and daughters-in-law, Gary Nolan (Lisa) Mayes of Madison, AL and James Craig (Tracy) Mayes of Wichita, KS; four grandchildren and spouses, Kyle (Brooke) Mayes of Brentwood, TN, Katie (Collin) Brasher of Madison, AL, and Casey Mayes and Hallie Mayes both of Wichita, KS; four great-grandchildren, Madden Mae and Jack Gentry Mayes of Brentwood, TN, Brooks Hayden and Campbell James Brasher of Madison, AL.
Sister Lou Ella (Leroy) DeBord of Dunlap, TN; Four sisters-in-law and brothers-in-law, Thelma Delong of Spencer, TN and Dorothy (John David) Wilson of Sparta, TN; Thomas Edward (Joyce) Mayes of Unionville, TN and Lonnie (Lynette) Mayes of Spencer, TN; and several nieces and nephews also survive.
Funeral service will be held at 2:00 p.m. Saturday, December 18, 2021 at Pikeville Funeral Home, 39299 Highway 30, Pikeville, TN 37367 with Dennis Smith, Charlie Hannah, Jerry Mayes, and Leroy DeBord officiating. Burial will follow in Lonewood Cemetery. Visitation will be at 11:00 a.m. Saturday until the time of service.
In lieu of flowers, memorial contributions may be made to Lonewood Cemetery Fund, 590 Old State Hwy 28, Dunlap, TN 37327.