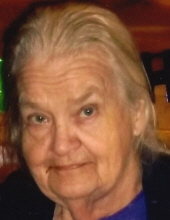 Obituary for Doris Ann Gaydon
Pikeville, Tennessee – Mrs. Doris Ann Gaydon, 90, passed away Tuesday June 7, 2022, at the Erlanger Bledsoe Hospital. She was born in Cherokee County, Georgia on March 17, 1932, to Herbert and Azzie Croary Hughes who preceded her in death along with her husband, Carter Leon Gaydon Sr.; sons, Cleon, John Wayne and Donald Gaydon; sister, Dorothy Ann Hughes; brother, Henry Ford Hughes.
She is survived by her sons, Bobby J. Gaydon and Carter Leon Gaydon Jr.; grandchildren, Mike (Sandy) Gaydon, Elizabeth (Micheal) Stephens, Ashley (Cody) Brown, Brittany (Anthony) Smith, Amanda Darnell, Johnton Wayne Gaydon, Stacy Gaydon, Jason Hutison, Pistol Gaydon and Joe Gaydon; great grandchildren, Ashlyn, Anaston, Logan, Isabella, Sarah, Simon, Jace, Brooklyn, Bentlee, Easton, Kaiden, Aubree, Zoe, Easton, Stacy, Chole, Jagger, Gracie, Lyer, Jake; daughters-in-law, Tina Gaydon and Karen Gaydon.
Graveside funeral services will be held 1:00 PM Friday June 10, 2022, at the Ophir Baptist Church Cemetery in Cherokee County Georgia.
Visitation: 1:00 PM – 8:00 PM CDT Thursday at Pikeville Funeral Home, Pikeville, Tennessee.
Condolences can be made at www.pikevillefuneralhome.com. Pikeville Funeral Home was entrusted with arrangements.
Read More