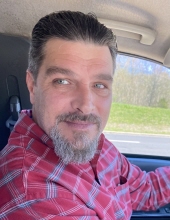 Obituary for Duane Patrick Pilgrim
Duane Patrick Pilgrim, age 50 of Grandview, died Saturday, June 19, 2021. Duane loved spending time with his family, enjoyed fishing, raising chickens, gardening, watching Nascar and drag racing, and loved his dogs and granddogs. He was a 1989 graduate of Bledsoe County High School and worked in carpentry.
Preceding Duane in death was his sister, Gina Marie Pilgrim; grandparents, Troy and Doris Pilgrim; Marie Yarber.
Duane will be dearly missed by his loving wife of twenty-nine years, Nona Jean Bedwell Pilgrim; sons, Troy Paden (Tiffany) Pilgrim and Roger Matthew Wheeler; daughter, Michayla (Bradley) Hankins; parents, Patrick Ellis and Penelope Marie Charles Pilgrim; brother, Ryan (Roxanne) Pilgrim; uncle and aunt, Troy and Helen Pilgrim; grandchildren, Kali Marie Pilgrim, Anna Marie Hankins, Grant Michael Hankins, and Bristyn Wheeler; several nieces, nephews, cousins, and a host of friends.
There will be a family and friends gathering at Fall Creek Falls State Park Recretation Hall Thursday, June 24, 2021 at 4:00 pm CDT with a small memorial service at 4:30.
Condolences can be made at www.pikevillefuneralhome.com. Pikeville Funeral Home was entrusted with arrangements.