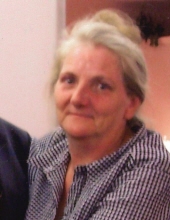 Obituary for Eula Verdene Brock
Eula Brock, age 66, of Pikeville, died August 8, 2021. Eula worked in a textile factory for many years. She loved reading her Bible, talking to her friends, and spending time with her grandkids.
Preceding Eula in death was her husband, Clifford Ray Brock; parents, Lee and Nancy Brown Cunningham; daughter, Joann Brock; brothers; Manuel, Foster, and Billy Joe Cunningham; sister, Faye Hubbard; and granddaughter, Chanda Leann Brock.
Eula will be dearly missed by her son, Glen Brock (Kate DeBord); grandchildren, Aaron (Vanessa Rhodes), JoAmber (Labron Harrold), and Hunter Brock; great-grandchildren, Levi Crowe, Bryson Brock, Cameron Brock, and Jo anna Gore; several nieces, nephews, cousins and a host of friends.
A celebration of life will be 1:00pm CDT Wednesday, August 11, 2021 at Pikeville Funeral Home with Bro. Dennis Smith officiating. Burial will be in Henson Cemetery. The family will receive friends 3:00-8:00 pm CDT Tuesday, August 10, 2021 at the funeral home.
In lieu of flowers the family request donations be made to Pikeville Funeral Home to help with final expenses.
Condolences can be made at www.pikevillefuneralhome.com. Pikeville Funeral Home was entrusted with arrangements.
Read More