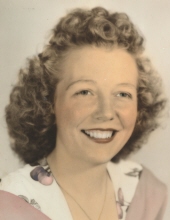 Obituary for Euthema "Tootsie" Payne
Euthema "Tootsie" Payne, age 97 of Pikeville, died December 10, 2020. She was born to Harm and Sallie Rainey January 9, 1923 and the baby of six children in the Brockdell community. Tootsie married J. Brown Payne on December 20, 1946. They were married for forty-three years before he passed away. They had two children, Tommy and Barbara Payne; five grandchildren, Rodney and Keith Simmons, Tommy Jr. "Buddah", Kenneth, and Sheri Payne; five great grandchildren, Keoni, Kai, and Koa Payne, Gavin and Gabby Simmons; two step-grandchildren, Angie and Matthew McNabb; four step-great-grandchildren, Silas and Sylvia Carrier, Catie and Chloe McNabb; several nieces, nephews, cousins, and a host of friends.
She loved the Lord and her family dearly, and was a member of Faith Baptist Church. Tootsie worked many years at Cranwell-Lee Hosiery Mill until it closed in the 1960's. She then worked with her sister Ina Johnson running the Snack Shop Restaurant on Main Street. From the snack shop she went to work at Standefer Drugs at the Lunch Bar until she retired. In her later years she baby sat many children. At age eighty she baby sat her great-grandson, Gavin Simmons until he went to school and after school. In her nineties she moved in with her daughter and wanted to start making quilts for her great-grandchildren, so Tootsie and Barbara got to work at age ninety-five and made five quilts for them that year for Christmas. After that she made five quilts for her grand-children and also for her two children so each would have a quilt made by their mother. Our dear friend Judy Roberts quilted some of the quilts.
Preceding Euthema in death were her parents, Harm and Sallie Turner Rainey; husband, J. Brown Payne; sister, Ina Johnson and Stella Millard; brothers, Sam, Cleve, and Rubin Rainey.
Our family will sadly miss our loving mother, grand-mother, and great-grandmother.
A celebration of life will be 2:00 pm CST Sunday, December 13, 2020 at Pikeville Funeral Home with Bro. Doyle Ashburn officiating. Burial will be in Pikeville City Cemetery. The family will receive friends 4:00-8:00 pm CST Saturday, December 12, 2020 and 12:00-until service time Sunday.
Condolences can be made at www.pikevillefuneralhome.com. Pikeville Funeral Home was entrusted with arrangements.
Read More