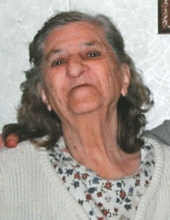 Obituary for Frances Ellen Gossett
Frances Ellen Gossett, 84 went home to be with our Lord on January 14, 2015. She was of the Baptist faith.
She was preceded in death by her husband, Oscar Fred Gossett; parents, Alford Thurman and Bertha Thurman Angel; brothers, Dennis; Jesse; Venus; Leonard, and Arnold Thurman; sister, Beulah Thurman; sons-in-law, Frank Boring and Robert Rhea; and one daughter-in-law, Terry Gossett.
Left behind to cherish Frances' memory are her sons, Marlin (Martha) Gossett, of Dunlap, TN., and Charles, Thomas, and Lonas Gossett, daughters, Mary Ellen Boring; Ruby (Josh) Asberry; and Glenda (Steve) Miller; all of Pikeville, 14 grandchildren, 20 great-grandchildren, 2 great-great grandchildren, 2 brothers, Paul Thurman; of Dayton, TN., and Hubert (Barbara) Thurman; of Pikeville, TN., several nieces, nephews, cousins and many special friends.