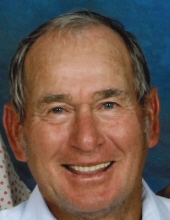 Obituary for Frank Norris Hendrick
Our Dearly Beloved Frank Norris Hendrick, age 79, left this life, for a better place, on January 12, at 12:40 a.m. EST. He was a devoted Christian, and loving husband. His many friends knew him for a hard- working, talented man, who judged no one, and accepted everyone for whatever he or she was. Frank was a member of Walden Ridge Baptist Church, loved being outdoors, and listening to western and country music.
Preceding Frank in death were his parents, Daniel Chandler and Edna Downs Hendrick; daughter, Karyn Hendrick; brother, Landon Hendrick.
He leaves behind, to cherish his memory, his wife, Sally Pearl Hendrick; son, Michael Hendrick; four brothers, Max (Betty) Hendrick, FL, Donald (Pat) Hendrick, Dayton, Randall (Cathy) Hendrick, FL, Harold (Imogene) Hendrick, Dayton; and six sisters, Helen (Frank) Liggett, SC, Greta (Walter) MacPherson, Dayton, Ernestine (Earl) Knight, Pikeville, Martha (Wayne) Fugate, GA, Katherine (Brince) Turner, and Beverly (Sam) Gholston, Pikeville; one grandchild; several nieces, nephews, cousins, and a host of friends.
Service will be at Pikeville Funeral Home 2:00 pm CST Tuesday, January 16, 2018, with Rev. Jerry Leavengood officiating. Visitation two hours prior to service. Burial will be at Summer City Cemetery.
No flowers, please. Donations in his name can be made to Walden Ridge Baptist Church, Dayton, TN.
Condolences can be made at www.pikevillefuneralhome.com. Pikeville Funeral Home was entrusted with arrangements.
Read More
Cemetery Details
Location
Summer City Cemetery
Summer City Road
Pikeville, TN 37367