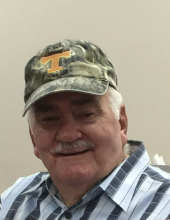 Obituary for George Washington Heard, Jr.
George Washington Heard, Jr., age 85 of Pikeville, died Friday, October 2, 2020 with family by his side. Jr., as everyone called him, was operator of heavy equipment and built Twin Lakes. In 1984 he bought a garage where he and his sons ran Heard Tire Center for twenty-one years before closing it in 2005. He was a member of Pikeville Church of Christ, enjoyed farming, fishing, and hunting.
Preceding him in death were his parents, George W. and Willie Fannie Hatfield Heard, Sr.; daughter, Deborah Carol Hale; brothers, J.T., Olen, and Harold Heard; sister, Mildred Smith.
Survivors include his wife of sixty-seven years, Gladys Worthington Heard; sons, Steve (Donna) Heard, Billy (Regina) Heard; daughters, Donna (Jackie) Keith, Vicky (Tony) Hale; son-in-law, Wayne Hale; brothers; Homer (Tressie) Heard, Clayton (Lola) Heard; sister, Dorothy Worthington; grandchildren, Dewayne, Eddie, and Kirby Hale, Jeanine Boynton, Scott Keith, Shenia Johnson, Tonia Locklear, Derrick Heard, Hope Heard, Hailey Riggs, Haven Heard, B.J. Heard, Amelia Heard, Cortney Lewis; seventeen great-grandchildren; one great-great-grandchild; several nieces, nephews; cousins and a host of friends.
A celebration of life will be 2:00 pm CDT Sunday, October 4,2020 in the funeral home chapel with Bro. Tony Britt officiating. Visitation will be 10:00 am-8:00 pm Saturday, October 3, 2020 and 9:00 am until service time Sunday at the funeral home.
Condolences can be made at www.pikevillefuneralhome.com. Pikeville Funeral Home was entrusted with arrangements.