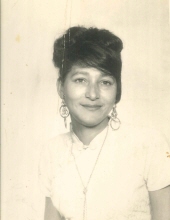 Obituary for Gladys Lucille Pankey
Gladys Lucille Pankey, 82 passed away unexpectedly on Thursday, December 22, 2016 in Chattanooga. She was a member of AME Zion Methodist Church-Pikeville Chapel. Lucille worked several years at Howard Upchurch office cleaning. Others she cleaned for were Katherine Swafford, Paul Swafford, Suzy Roberson,,Patsy Morgan, Phillip and Gayanne Burns, just to name a few. Some of her favorite past times were crocheting, picking turnip greens, and collecting crystal and dishes.
Lucille was preceded in death by parents, Arthur Brock and Aretta Lawson Brock Pope; sisters, Nellie Grace Sammons, Mary Clyde Bridgeman, Freda Murine Brock, brothers, James Wallace and Robert Levander Bridgeman, Arthur Maynard, Willie Elister, Herbert Randall, and Harry Francis Brock; grandsons Edward Antioni Maxwell and Edward Jason Pankey; great-grand-daughter, Kimora Austin.
Left to cherish Lucille's memories is her daughter, Lucinda (Claude Pankey) Maxwell, Cookeville, and Edward Randel (Becky) Pankey, Pikeville; sister Bess Bridgeman, Pikeville; assisted in the rearing of Allushun and Chad Maxwell; nine grandchildren, fifteen great-grandchildren; several nieces, nephews, and a host of friends.
A Celebration of Life will be held 2:00 Monday, December 26 in the funeral home chapel with Elder J. R. Bridgeman officiating. Burial will be in Pikeville Cemetery.
The family will receive friends 11am until service time Monday.
Online condolences can be made at www.pikevillefuneralhome.com.
Pikeville Funeral Home entrusted with arrangements.
Read More
Cemetery Details
Location
Pikeville City Cemetery
Cemetery Road
Pikeville, TN 373