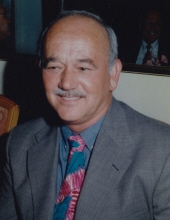 Obituary for Henry Earl Reed
Henry Earl Reed, age 69 of Spring City, died Sunday, June 30, 2019. He was an Army veteran, a member of the Shriner International, and a mason. During his spare time he enjoyed fishing. Earl worked as an Electrical Instructor during his 30 years with TVA.
Preceding him in death were his parents, Frank and Eva Hawkins Reed; brother, Mearl Reed.
Survivors include his fiance', Ann Fields; daughter, Shannon June, Dayton; Carl (Karen) Reed, Pikeville; sisters, Talma (Lamar) Mincy; Tina (Keith) Palmer, both of Spring City; three grandchildren; three great-grandchildren; several aunts, uncles, nephews, nieces, cousins, and a host of friends.
A graveside service will be 11:00 am CDT Wednesday, July 3, 2019 at Smyrna Cemetery in Bledsoe County with Bro. James Dunn officiating. A visitation will be at 10:00am CDT Wednesday at Pikeville Funeral Home.
Condolences can be made at www.pikevillefuneralhome.com. Pikeville Funeral Home was entrusted with arrangements.
Read More