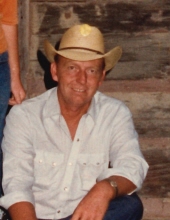 Obituary for James Randall Morris
James Randall Morris, age 72 of Pikeville, passed away Sunday, February 10, 2019. Randall was a carpenter and farmer all of his life. He enjoyed riding horses, hanging with his family, attended New Harmony Church of Christ when able, and was a veteran of the United States Army.
Randell was preceded in death by his wife, Jackie Morris; parents, James Michael and Kathleen Brown Morris; special child, Amber Everett.
Survivors include his sons, Jimmy (Christie) Morris, Lee (LeeAnn) Morris; special children, Sandy Holland and Crissy Everett; grandchildren, Mike, Katie, and Jessie Morris, Autumn Cooley, Luke and Ty Morris, Chase (Chas), Seth (Geordan), and Drake (Kaitlyn) Brown, Alana, Kamry, and Jenna Holland, Shayla Loyd, Caylin Bledsoe; great-grandchildren, Brice Frady, Cole, Blake, Carter, and Mason Morris, Tallen Harvey, Saylor, Blaise, and Ricki Brown; several nieces, nephews, cousins, and a host of friends.
A graveside service will be 10:30 am CST Monday, February 11, 2019 at Smyrna Cemetery with Bro. Gary Everett officiating. The family will receive friends at his residence after 5:00 pm CST Sunday, February 10, 2019.
Condolences can be made at www.pikevillefuneralhome.com. Pikeville Funeral Home was entrusted with arrangements.