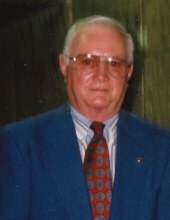 Obituary for James Rollie Cooper
James Rollie Cooper, age 88 of Knoxville, died Thursday, February 20, 2020 with family by his side. He was of the Methodist faith, loved animals, enjoyed playing golf in his younger years and was a big UT fan.
James was preceded in death by his parents, Roy and Mamie C. Greening Cooper; nephew, James Richard "Ricky" Glover.
Survivors include his wife of over sixty years, Betty Joyce Turner Cooper; sisters, Barbara (Bill) Glover; Cindy (Alfred) Terry; several nieces, nephews, cousins, and a host of friends.
Due to the new restrictions on nursing homes, the memorial service has been cancelled for now.
Condolences can be made at www.pikevillefuneralhome.com. Pikeville Funeral Home was entrusted with arrangements.
Read More