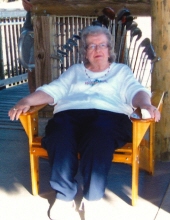 Obituary for Jo Anna Cross
Jo Anna Cross, age 78 of Pikeville, died Monday, April 12, 2021 at home with family by her side. She was a member of the Jehovah Witness, enjoyed gardening, mainly flowers, and bird watching.
Preceding Jo in death were her parents, Joseph Arthur and Aeril Virginia Nordenskjold Kleist; sisters, Suzanne Kay and Fay Cassoday.
Left behind to cherish her memory is her husband of sixty years, Jerry Lee Cross, son, Patrick (Carol) Cross, FL; daughter, Laurie Cross and Shawn S. Cross, both of Pikeville sister-in-law, Elaine Watts; brother-in-law, Richard (Susan) Cross; grandchildren, Scott, Zachery, Alexander, and Courtney; special niece and nephew, Brian and Sandy Crichfield; numerous other nieces; nephews, cousins, and a host of friends.
There is no service planned at this time.
Condolences can be made at www.pikevillefuneralhome.com. Pikeville Funeral Home was entrusted with arrangements.