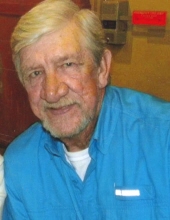 Obituary for Joseph Henry Casper, Sr
Joseph Henry "Joe" Casper, Sr., 76 of Pikeville, died Tuesday, July 11, 2017. His occupation was restoration of Classic Cars. He enjoyed and loved singing. Joe was owner and operator of Coachman's Inn and Restaurant in Pikeville for many years.
Joe was preceded in death by his parents, Augusta and Alice Cole Casper; brothers, Lawrence, Earl and Robert Casper; sisters, Emma Welch and Ruthie Mansfield.
Survivors include his wife of fourteen years, Judith H. Trefethen Casper; daughters, Pamela Sue (Stephen) Schmidbauer, Ohio, Cathy Eckstein, FL; sons, Joseph Henry(Shawne) Casper, Jr. OH, Kenneth (Suzanne) Jones, OH, Sean (Tiffany) Hodgkins, FL, Steven Hodgkins, FL, fourteen grandchildren, nine great-grandchildren, several nieces, nephews and a host of friends.
A memorial service will be held 11:00 a.m. Thursday, July 13, at First Southern Baptist Church with Bro. Jim Whitaker officiating. In Lieu of flowers the family request donations be made to Gulf To Lake Baptist Church Building Fund 1454 North Gulf Avenue Crystal River, FL 34429.
Condolences can be made at www.pikevillefuneralhome.com
Pikeville Funeral Home was entrusted with arrangements.