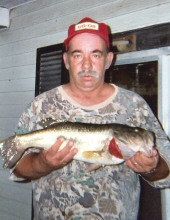 Obituary for Larry Gene Brown
Larry Gene "Smokey" Brown, age 69 of Pikeville, passed away peacefully at his home with his loving family by his side Tuesday, May 11, 2021. He loved spending time with his family, enjoyed hunting, fishing, and working with his chickens. Larry served in the United States Army from 1970-1973, worked in the warehouse at Bledsoe Farmers Coop for ten years, and was of the Church of God faith.
Preceding Larry in death were his parents, Ervin and Augusta Perkins Brown; brothers, Jack, John, and Robert Dean Brown.
Left behind to cherish his memory is his loving wife of thirty-one years, Darlene Marie Angel Brown; sons, Rodney (Becky) Brown, Bo Brown, Robert (Laura) Brown, Cody (Ashley) Brown; daughters, Tina Brown and Lynn (Chad) Brown; brothers, Danny (Ellen) Brown, and Arthur (Patsy) Brown; twelve grandchildren; 2 great-grandchildren; special friends, Keith and Shirley McKinney; several nieces; nephews, cousins, and a host of friends.
A celebration of life will be 1:00 pm CDT Friday, May 14, 2021 at Pikeville Funeral Home with Bro. Danny Lee officiating. Burial will be in Brown's Family Cemetery with military honors. The family will receive friends 3:00pm-8:00pm Thursday, May 13, 2021 at Pikeville Funeral Home. In lieu of flowers the family request donations be made to Pikeville Funeral Home to help with final expenses.
Condolences can be made at www.pikevillefuneralhome.com. Pikeville Funeral Home was entrusted with arrangements.