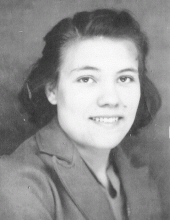 Obituary for Lillian Margaret Creason
Lillian Margaret Gilbert Creason of Sparta, formerly of Pikeville, was promoted to heaven on Thursday, September 27, 2018 in Life Care of Sparta. Lillian was of the Church of God faith and a member of the family of God. She was a housewife and enjoyed working in her flower gardens.
She was preceded in death by her loving husband of fifty-seven years Mathew Creason; daughter, Louise Keedy; parents, Richard Edward and Lydia Mae Beach Gilbert; sons-in-law, John Keedy, Hubert Hale, Bobby Thurman, Ralph Morgan; several brothers and one sister.
She leaves to treasure her memory her daughters, Margaret Hale, Spencer, Joyce Morgan, Pikeville; brother, Hobert (Birdie) Gilbert, Spencer; eight grandchildren, Rev. Jerry VanWinkle, Terry VanWinkle, Ginger Keedy, Marlene Grisson, Michelle Hitchcock, David Britt, Mike Britt, and Teresa Key; fourteen great-grandchildren; nine great-great grandchildren; several nieces, nephews, cousins, and a host of friends.
A celebration of life will be 1:00 pm CDT Sunday, September 30, 2018 with Rev. Jerry VanWinkle and Bro. Danny Rogers officiating. Burial will be in Blackburn Cemetery. The family will receive friends 2:00-9:00 pm CDT Saturday, September 29, 2018.
Condolences can be made at www.pikevillefuneralhome.com. Pikeville Funeral Home was entrusted with arrangements.