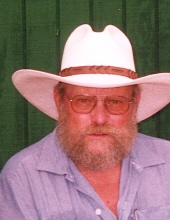 Obituary for Lonnie Mealoy Everett
Lonnie Mealoy Everett, age 81 of Pikeville, TN, died peacefully at his home at Look West Farm with his daughters by his side, Wednesday, September 12, 2018. "Chief", as he was known by many, enjoyed coon and fox hunting, and riding horses. He was also known for his wit, his love of music as well as football, especially the University of Alabama and the Dallas Cowboys. Lonnie worked at C F Industries for eighteen years in Chattanooga before becoming a full-time farmer. After retirement his life was filled with grandchildren, friends and family. He was a member of New Harmony Church of Christ.
He was preceded in death by his parents, Lorenzo Dow and Susie Bell Hancock Everett; brothers, Billy, Bobby, and Larry Everett; brothers-in-law, J B McDowell and Floyd Burgess; sisters, Lila Bell, Geraldine, and Diane Everett, Jackie Morris, Maxine Allen; sister-in-law, Sue Everett.
Survivors include his; daughters, Donna (Wayne) Eldridge, Shannon Everett; brothers, Gary (Teressa) Everett; brother-in-law, Randall Morris; sisters, Mary McDowell, Shirley (Tom) Evitt, Charlotte Burgess, Martha (Kay) McKechnie, Linda Smith, Brenda (Joe) Powell, Lydia (John) Griffith; sister-in-law, Reba Everett; grandchildren; Zach and McKayla Travis, Trey Eldridge; caregivers, Chris Carlton and Angela Yokely; several nieces, nephews, cousins, and a host of friends.
A celebration of life will be 9:00 am CDT Saturday, September 15, 2018 in the funeral home chapel with Bro. Paul Cagle officiating. The family will receive friends 3:00-8:00 pm CDT Friday, September 14, 2018. Burial will be in Rigsby Cemetery.
Condolences can be made at www.pikevillefuneralhome.com. Pikeville Funeral Home was entrusted with arrangements.