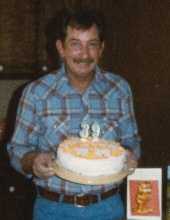 Obituary for Loyd George Cordell
Loyd George Cordell, age 74 of Pikeville, died Tuesday, March 9, 2021. Loyd worked in carpentry for over twenty-five years and in the coal mines also. On Sundays he would watch preaching and listen to singing on T.V. networks. He enjoyed fishing, watching the races, cooking, eating, gardening, watching football, especially Tennessee Vols.
Preceding Loyd in death were his parents, Herbert and Verna Simmons Cordell; wife, Joyce Cordell; brothers, Larry and Landon Cordell; sisters, Lois Pendergrass, Linda Evans, and Loraine Cordell.
Left behind to cherish his memory is his son, Stoney (Sonja) Cordell; daughter, Misty Angel; brother, Lynn Cordell; sisters, Layne (Earl) Knowles, Pikeville, Loretta (Bill) Headlee, Dayton, Lucille (Bruce) Fields, Pikeville, Lisa Holloway, Oliver Springs, Cindi (Jimmy) Walker, Pikeville; grandchildren, Shaine, Hayley, Alex, Mikey, and Ben; several nieces, nephews, cousins, and a host of friends.
A celebration of life will be 2:00 pm CST Friday, March 12, 2021 in the funeral home chapel with Bro. Bradley Hargis officiating. Burial will be in Iron Hill Cemetery. The family will receive friends 9:00am until service time at the funeral home. In lieu of flowers the family request donations be made to the funeral home to help with final expenses.
Condolences can be made at www.pikevillefuneralhome.com. Pikeville Funeral Home was entrusted with arrangements.