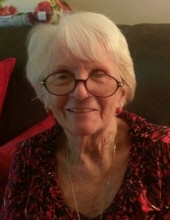 Obituary for Mary Frances Holloway
Mary Frances Simmons Holloway, age 84 of Pikeville, received her wings resting peacefully due to complications from strokes on Friday, July 05, 2019. She was born on June 22, 1935 to Charles Eston Simmons, Sr. and Thelma Evelyn Loyd Simmons, who preceded her in death along with several brothers, sisters, aunts, uncles, cousins, brothers and sisters-in-law. Preceding her also was her father and mother-in-law, Robert Nolan and Idell Swafford Holloway; maternal grandparents, Simmie Frances Morgan Loyd and Robert Edward Loyd and Ease Blaylock; paternal grandparents, Mary Dell Brewer Simmons and James Tolliver "JT" Simmons; son-in-law, Bill H. Stiles; grandsons, John Thomas "JT" Holloway and John Trampus Holloway.
Frances was a member of Pikeville Church of God and attended regularly when she was able. She was a homemaker doing some assembly and production work also. Frances owned her own shop "Fran's Boutique" in Pikeville where she was a hair dresser for many years along with helping her husband run several businesses. She enjoyed seeing family and friends , talking on the phone, watering her flowers, feeding the humming birds, watching her favorite TV shows, but most of all going somewhere- anywhere, because Frances always said her middle name was "Go". She was able to travel over thirty-two states and the country of Mexico to prove it. If you did anything she wasn't happy with she'd say, "I'm giving you to the Indians". We didn't really know the reasoning behind it but she thought it was funny. When she called you on the phone she'd say "Who calls more than I do"? If you really knew her, you also knew her favorite color was red. She was very energetic, loved shopping, thrift stores, yard sales, and collecting things. Frances loved going to hear gospel singing, and also sang with a gospel quartet and with The Upper Room Trio. The last few months she was spontaneously singing "He's Got The Whole World In His Hands". She had a beautiful alto voice that will be greatly missed along with her excitement and beautiful smile. She attended Bledsoe County High School where she met the love of her life and married, Thomas Albert Holloway on March 3, 1953. They eloped to Georgia with Albert's first cousin David Holloway as a witness telling the preacher they were 18. Frances was 17 and Albert was 16. After almost sixty-one years of marriage Albert moved to heaven on January 20, 2014. She and Albert lost two children to miscarriages who met her in heaven. Together they raised four children in Elyria, Ohio and moved back to Crossville in 1968 where their last child was born in 1969. They later moved to Pikeville and stayed.
She will be greatly missed and those left to cherish her memory are her daughter, Lynda F. Holloway Bilbrey Stiles; sons, Tommy (Nancy Webb) Holloway, Gary W. Holloway, Sr., John Travis (Dana Cousins) Holloway, all of Pikeville, Roger Dale (Debbie Welch) Holloway of Crossville; grandchildren, Marcus O. and Jessica Bilbrey, Sparta, Joseph R. Bilbrey, Gary Wayne Holloway, Jr., Matthew Holloway, Eli and Raylon Holloway, Nikki Holloway and Sissy Pelfrey, all of Pikeville, Crystal Holloway Ennis, Brinkley, Arkansas, Richard Holloway, Newport, Arkansas; sixteen great-grandchildren; sisters, Edna Elaine Simmons Sisco, Fannie Dell Simmons (Michael) Oakes, Reta Gail Simmons (Randy) Lewis, all of Pikeville; brother, Charles Allen "Charlie Buck" Simmons, Maryville; step-mother, Helen Brown Simmons; sisters-in-law, Thelma Holloway Brown, Jewell Holloway Sexton, Anna Ruth Holloway (Greer) London, all of Pikeville; brothers-in-law, Bobby (Dorothy Simmons) Holloway, Pikeville, Ronnie Lee (Treva Johnson) Holloway, Tullahoma; several nieces, nephews, cousins, and a host of friends.
We are assured if we are saved through the blood of Jesus Christ we will see her again and we look forward to that happy day.
A celebration of life will be 3:00 pm CDT Monday, July 8, 2019 with Bro. Ronnie Holloway and Pastor James Dunn officiating. Burial will be in Worthington Cemetery. The family will receive friends 1:00-9:00 pm CDT Sunday, July 7, 2019. In lieu of flowers the family request donations be made to Hospice of Cumberland County.
Condolences can be made at www.pikevillefuneralhome.com. Pikeville Funeral Home was entrusted with arrangements.