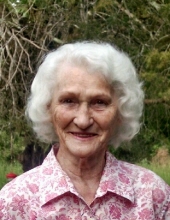 Obituary for Mary Lou Burgess
Mary Lou Sapp Burgess, age 90 of Pikeville, died Thursday, March 22, 2018. She was of the Baptist faith. Mary retired from Fall Creek Falls Inn where she worked in housekeeping. Some of her hobbies were fishing, puzzles, crossword puzzles, and reading.
Mary was preceded in death by her husband, Roy T. Burgess; grandson, Gabriel Burgess; sisters, Margaret Blomberg and Eva Jane Gilbert; brothers, Bobby, Glenn, Billy Joe, Wayne, and Henry Clay Sapp.
Survivors include her sons, Dexter (Linda) Burgess, Dunlap, Don Burgess, Sale Creek, Doug (Lynn) Burgess, Dayton; sisters, Trudy (Dale) Hale, Dayton, Sue Soderstrom, Smyrna; brother, Dwight (Linda) Sapp, Pikeville; ten grandchildren, ten great-grandchildren; several nieces, nephews, cousins and a host of friends.
A Celebration of Life will be at 2:00 CDT Sunday, March 25, 2018 in the funeral home chapel with Bro. Robert Sapp officiating. Burial will follow in Blackburn Cemetery. The family will receive friends 4-9 Friday and Saturday, March 23 & 24 and 12-2 Sunday.
Condolences can be made at www.pikevillefuneralhome.com. Pikeville Funeral Home was entrusted with arrangements.