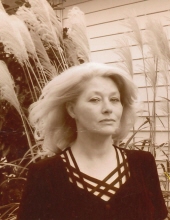 Obituary for Melissa Diane Olinger
Melissa Diane Olinger, age 54 of Pikeville, died Friday, December 29, 2017. She was very talented, and worked as a florist for many years. She enjoyed cooking, painting, baking, and spending time with her family of which she was the primary caregiver for her parents for many years. Melissa was an active member of Pikeville Church of Christ and was a 1982 graduate of Bledsoe County High School.
She was preceded in death by her parents, Robert Woodrow "Bobby" and Margaret Judy Troglin Olinger; brothers, Terry and Daryl Olinger.
Survivors include her brother, David (Susan) Olinger, sisters, Donna (Steve) Heard, Sherry (Mike) McGuire, nieces, nephews, Garrett Olinger, Virginia Grace and Emory Helen Olinger, Derrick Heard, Hope (Tyler Sapp) Heard, Melissa Hailey (D.J.) Heard Riggs, Judith Haven Heard, Maddison Jade (Jessee) Sandell, Robert Mason Blaylock; great-nephew, Elias Terry Sandell; sister-in-law, Sandra Olinger; numerous cousins, extended family, and a host of friends.
A celebration of Melissa's life will be held on Monday, January 1, 2018 at 2:00 pm in the funeral home chapel. A cremation will take place after the service. The family will receive friends Sunday, December 31, 2017 1-8 pm and Monday, January 1, 2018 10am-2pm. Donations can be made in Melissa's memory to the Pikeville Church of Christ. Condolences can be made at www.pikevillefuneralhome.com. Pikeville Funeral Home was entrusted with arrangements.