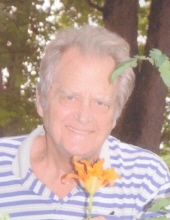 Obituary for Melvin Matthews
Melvin Matthews, 81 of Pikeville, went to be with the Lord on Tuesday, September 29, 2015. He was a veteran of the United States Army and served his country during the Korean War.
During his life Mel wrote for the Southern Standard in McMinnville, TN., worked fifteen years at the Cumberland County Playhouse, was the "Voice of the Warriors" on WUAT, worked security for the Bledsoe County Sheriff's Department, and was currently the court officer at the Bledsoe County Court House. Mel loved working with the radio and newspaper and was a huge U. T. and Nascar fan.
He was preceded in death by his mother, Mary Elizabeth Matthews; sister, Opal Fay Miller.
Left behind to cherish Mel's memory is his wife of sixty-plus years, Mary Matthews; son William Edward (Shirri) Pruitt, Pikeville; daughters, Karen (Chris) Christopher, Pikeville; Betty Howser, Rock Island; three brothers-in-law, Bill (Bonnie) Howser, Earl (Pam) Howser, Randal (Jean) Howser, sisters-in-law, Judy Smith, and Elaine Richardson; grandchildren, Matthew Walker, Tony Cagle, Jr., Shirri Ann and William Pruitt, Jr., all of Pikeville; Adam Pruitt, Bloomfield, NE., Melissa Campbell, Rock Island; several nieces, nephews, cousins, several great grandchildren, and a couple great-great grandchildren, and a host of friends.
A Celebration of Mel's life will be Friday at 2:00 pm CDT in the funeral home chapel with Bro. Jimmy Garner officiating. Burial will be in Pikeville Cemetery. Visitation will be Thursday, 2-9 pm CDT.
In lieu of flowers memorial contributions can be made to assist with Mel's final arrangements.
Online condolences may be made to the family at www.pikevillefuneralhome.com
Pikeville Funeral Home entrusted with arrangements.
Read More
Cemetery Details
Location
Pikeville City Cemetery
Cemetery Road
Pikeville, TN 373