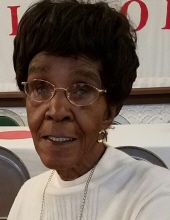 Obituary for Mildred L Bridgeman
Mildred L. Bridgeman, lovingly called "Me-Me," MiMi", or "Lil Mildred", age 88 of Pikeville, died November 20, 2020. Mildred was a faithful member of Pikeville Chapel, loved her family and her many fur babies and she worked in housekeeping and the factories in Dayton for many years. She enjoyed going to yard sells, shopping, collecting jewelry, and working in her yard.
Preceding Mildred in death was her husband, Nathaniel Bridgeman; parents, Lonas and Roberta Vernon Swafford; brother, Billy Joe Swafford.
Left behind to cherish her memory is her daughter, Janet (David) Black; grandchildren, Rochelle, Rhoda, Roy (Nikki), and Reena; great-grandchildren, Derek, Darrell, Rachel, Raquel, Nijza, and Nathaniel; four great-great –grandchildren; nephew who was like a son, Randy Bridgeman; special friends, Anne Lindo, Norma Brock, and Luther and Mary Hollingsworth; several nieces, nephews, cousins, and a host of friends.
A Graveside service will be 12:00 pm CST Saturday, November 28, 2020 at Pikeville Cemetery with Rev. Billingsley and Pastor Luther Hollingsworth officiating. The family will receive friends 11:00- 11:45 am at Pikeville Funeral Home and ask for mask and social distancing.
Condolences can be made at www.pikevillefuneralhome.com. Pikeville Funeral Home was entrusted with arrangements.