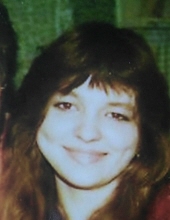 Obituary for Mirenda Gay Everett
Mirenda Gay Everett, age 53 of Pikeville, died Saturday, May 12, 2018. She loved her family and grandbabies.
Mirenda was preceded in death by her parents, Odean and Gladys Irene Smith Brock; son, William Everett.
She is survived by her sons; Arliegh (Becky) Everett, Charles Bohanan, Casonivan Everett; daughters, Lorenda Everett and Felix Santos, Duranda Bohanan, Randie Everett; brother, Oivon Brock; sister, Ivagay (Tony) Dotson; seven grandchildren; many nieces, nephews, cousins and a host of friends.
A celebration of life will be 1:00 pm CDT Tuesday, May 15, 2018 in the Pikeville Funeral Home Chapel. Burial will be in Brock Cemetery. The family will receive friends 12:00 pm-9:00 pm CDT Monday, May 14, 2018. In lieu of flowers the family request donations be made to Pikeville Funeral Home to help with final expenses.

Condolences can be made at www.pikevillefuneralhome.com. Pikeville Funeral Home was entrusted with arrangements.