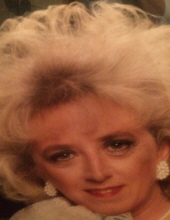 Obituary for Myrtis Virginia Morgan
Myrtis Virginia Morgan, age 74 of Evensville, died Sunday, December 8, 2019 with family by her side. Virginia was a housewife and dedicated her life to her family. She enjoyed her chickens, fishing, cooking, and always trying to take care of everyone else.
Preceding Virginia in death were her parents, John and Voncile Taylor Walker; daughter, Virginia Nichole McVay; brother, Charles Walker; sister, Helen Gornik.
Virginia will be dearly missed by her husband of fifty-one years, Cleo Morgan; daughter, LaSchelle (Tim) Riggs; grandchildren, Byron McVay, Desiree McVay, Lauren Hale, Mandi (Jeremy) Revis; great-grandchildren, Zachery Hardin and Laiken Hale; brother, Stanley Walker; sisters, Judy (Grady) Nixon, Linda Miller; several nieces, nephews, cousins; and a host of friends.
A celebration of life will be 4:00 pm CST Tuesday, December 10, 2019 with Bro. Paul Daniel officiating. Burial will be 10:00 am CST Wednesday, December 11, 2019 in Summer City Cemetery. The family will receive friends 4:00-8:00 pm CST Monday, December 9, 2019 and 11:00- 4:00 pm CST Tuesday, December 10, 2019 at Pikeville Funeral Home.
Condolences can be made at www.pikevillefuneralhome.com. Pikeville Funeral Home was entrusted with arrangements.
Read More