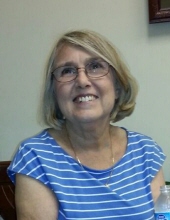 Obituary for Nannie Sue Lewis Hailey
Nannie Sue Lewis Hailey, age 70, lost her battle with cancer on March 26, 2019, while in Hospice Care at Germantown Methodist Hospital in Memphis. She was born in Pikeville to the late Envoy (Pee Wee) Lewis and Kathleen Gass Lewis.
Sue attended elementary school at Patten School in the Melvin Community. When it closed she then transferred to Pikeville Elementary School. After the death of her "MaMa" Lewis, she moved to Chattanooga in 1963 to live with her aunt and uncle, Allene and Cecil Kendall. There she attended Brainerd Middle school and graduated from Brainerd High School in 1967. She moved to Memphis and on August 30, 1979 married Duane Hailey. She was employed for many years for Shelby County as the Business Office Manager in the accounting department at the Oakville Healthcare Center.
Sue loved working in her yard, especially with her flowers and also loved animals (cats always gravitated to her house it seemed). She was very involved in her son's (David) sports activities and had a special love for her son's dog, Hank. Sue always had a smile on her face, enjoyed visiting with her neighbors, attending concerts with friends, and maintained her sense of humor despite her ongoing battle with cancer.
Preceding her in death were her grandparents, Harvie and Maude Lewis; father Envoy (Pee Wee) Lewis; mother Kathleen Gass Lewis; brothers, Thomas, I. L., and Dwight Lewis and Jackie Cagle; special uncle, Cecil Kendall.
She is survived by her husband, Duane Hailey, Memphis; son David Lewis Hailey, Huntsville, AL.; special aunts, Allene (Nikki) Kendall, Harrison, and Carolyn (Leon) Wilkey, Crossville; niece, Renee (Andrew) Sitelis, Pikeville; several cousins with a special cousin Cindy Kendall (Cole) Mullis, OR.

She was buried in Marked Tree Cemetery in Marked Tree Arkansas after a Celebration of Life held on April 14 at the Memphis Botanical Gardens in Memphis.
A memorial service will also be held in the Melvin Community of Pikeville at 11:00 am CDT Saturday, April 27, 2019 at Faith Baptist Fellowship Hall. At that time your thoughts and special memories of Sue can be shared.
Condolences can be made at www.pikevillefuneralhome.com. Pikeville Funeral Home was entrusted with arrangements.