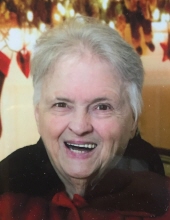 Obituary for Nova Allen
Nova Allen, age 86 of Pikeville, died Saturday, June 9, 2018. She worked in retail sales, enjoyed reading, spending time with her family, and was a member of Lonewood Baptist Church of Christ.
Nova was preceded in death by her parents, Leon Levi and Arrelia Carpenter Allen; daughter, Devonna Travelstead; brothers, Bobby, Billy Frank, and Jimmy Allen.
She is survived by her sons, Daniel L. (Cindy) Thrower, Stanley Thrower, Douglas (Diane) Thrower, and Charles Travelstead; sister, Nell Allen; twenty-one grandchildren, numerous great-grandchildren, nieces, nephews, cousins and a host of friends.
A memorial service will be 2:00 pm CDT Wednesday, June 13, 2018 in the Pikeville Funeral Home Chapel with Bro. Dan Thrower officiating. The family will receive friends 1:00-2:00 pm CDT Wednesday, June 13, 2018.

Condolences can be made at www.pikevillefuneralhome.com. Pikeville Funeral Home was entrusted with arrangements.