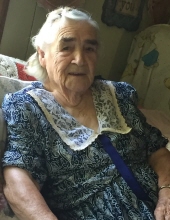 Obituary for Ola Mae Brock
Ola Mae Brock, age 94 of Pikeville, went to be with the Lord Saturday, April 3, 2021. She attended Webb's Chapel Church of God for forty three years. Growing up Ola Mae worked in the cotton fields of Alabama and farming fields most of her adult life. She always loved working in her garden and flower beds. Ola Mae loved sewing quilts for her children and grandchildren. She was always praying for her family, friends, and even strangers. Ola Mae was a very strong, loving, giving Godly woman. She loved everyone, but most of all God and family.
Preceding Ola Mae in death was her husband, Tommy Brock and loving companion, Dallas Webb; parents, Elijah and Catherine Russell; children, Paul Brock, Roberta Brock, and Carlton Webb; four grandchildren, brother, John Richard Russell and wife, Beverly, Charles Edward Russell and wife, Evelyn.
Left behind to cherish her memory are her children, Junior Brock, Leonard (Pam) Brock, Berdie Nolan, Nelson (Guilda) Brock, Thelma (David) Howard, Christine Webb, Laymon (Paula) Webb, Randy Webb; nineteen grandchildren; twenty-three great-grandchildren; one great-great-grandchild; brothers and sisters; Mildred Pauline (Charles) Dunn, Bertha Jean (Thomas) Rogers, Ruby Lee (Charles) Dunlap, James Edward (Barbara) Russell, J. D. (Linda) Russell, Thomas Raymond (Louvada) Russell, and William Floyd (Patty) Russell several nieces; nephews, cousins, and a host of friends.
A celebration of life will be 1:00 pm CDT Tuesday, April 6, 2021 at Frostbite House of prayer with Bishop Jackie Penny officiating. Burial will be in Winnie Cemetery. The family will receive friends 3:00-8:00pm CDT Monday, April 5, 2021 at the funeral home. Those serving as pallbearers will be Jody Webb, Cody and Logan Howard, Burfford Wilson, Raiden Mercer, and Gary Hedgecoth.
Condolences can be made at www.pikevillefuneralhome.com. Pikeville Funeral Home was entrusted with arrangements.
Read More