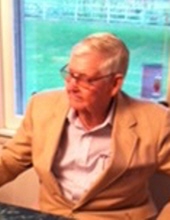 Obituary for Oral Levon Pendergrass
Oral Levon Pendergrass, age 91 of Athens, AL, died Sunday, July 11, 2021 at his home. Oral served in the United States Army Air Force from 1946-1947, then became a business owner of convenient stores and gas stations, and also was a truck driver for transportation of other trucks. He enjoyed mowing, gardening, running around with his buddies, and loved watching football games.
Preceding Oral in death were his parents, Willis and Stella Ferguson Pendergrass; daughter, Linda Smith; brothers, John and Ernest Pendergrass; sisters, Frances Cox and Wilma Quarles.
Oral will be dearly missed by his sons, Levon (Betty) Pendergrass, Ronnie Pendergrass; daughters, Mary (Don) Mize, Nancy (Terry) Blanco; sister-in-law, Bill Pendergrass; eight grandchildren; nine great-grandchildren; seven great-great-grandchildren; several nieces, nephews, cousins, and a host of friends.
A celebration of life will be 1:00 pm CDT Wednesday, July 14, 2021 at Pikeville Funeral Home. Burial will be in Pendergrass Cemetery. The family will receive friends 11:00am until service time.
Condolences can be made at www.pikevillefuneralhome.com. Pikeville Funeral Home was entrusted with arrangements.