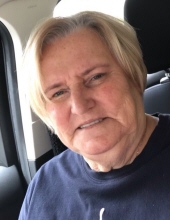 Obituary for Patricia Ann Lewis
Patricia Ann "Trish" Wyatt Lewis, age 65 of Pikeville, passed away Tuesday, September 28, 2021 at Erlanger Medical Center. She was a member of Plainview Freewill Baptist Church, loved her church family, and going to church. Trish worked at Robinsons Manufacturing and DURA automotive plant for several years. She enjoyed Parcheese, playing cards, other board games, candy crush, watching games shows on TV, The Bachelor and Dancing With The Stars.
Preceding Trish in death was her husband, Alvin Taylor "Tator" Lewis; parents, Bradley and Beatrice Cordell Wyatt; brothers, Charles "Pig" Wyatt, Gayness Wyatt; sister, Shirley Templeton.
Survivors include her daughters, Christy (Brad) Reece, Tonya (Scooter) Reed, grandchildren, Taylor" Lane" Reece, Raychel Ann Frady, Shae (Caleb) Smith, Chris Frady; sisters, Pat Cantrell, Mary (Dennis) Johnson, Wanda Holland, brothers, Everett "Ebb" (Donna) Wyatt and Bill (Linda) Wyatt; several nieces, nephews, cousins, and a host of friends.
A celebration of life will be 2:00 pm Thursday, September 30, 2021 in the funeral home chapel with Bro. Estel Bilbrey officiating. Burial will be in Blackburn Cemetery. The family will receive friends 4:00pm-9:00pm CDT Wednesday, September 29, 2021 at the funeral home. In lieu of flowers the family request donations be made to Pikeville Funeral Home to help with final expenses.
Condolences can be made at www.pikevillefuneralhome.com. Pikeville Funeral Home was entrusted with arrangements.
Read More