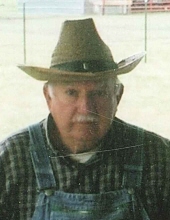 Obituary for Paul Junior Oakes
Paul J. Oakes, 88 of Pikeville passed away at Cumberland Medical Center on February 26, 2015.
He was of the Baptist faith and retired from Taft Youth Center after 37 years of service. His favorite pastime was spent trading. It was said that even if you had nothing to trade "he'd swap a nickel with you just so he could say he traded with ya".
He was preceded in death by his parents, Charles Hunter and Bessie Ann (Ward) Oakes, brothers and in-laws, Harold (Pearl and Nan) Oakes, Raymond (Bernice) Oakes, R.A. (Agnes) Oakes, D.C. (Alta) Oakes, Turner (Edna) Oakes, Lenard Oakes, Woodrow Oakes, sisters and in-laws, Jewell (Ernest) Reece and Bobbie (Reed) Cantrell, and 1 brother-in-law, Clarence Dean.
Paul is survived by his wife of 67 years, Velma Inez (Stone) Oakes, sons, Ricky Paul (Shirley) Oakes, Crossville, TN., David Michael (Fannie) Oakes and Mitchell Harmon (Carolyn) Oakes, both of Pikeville, TN., brother, Jim (Dorothy) Oakes, Crossville, TN., sister, Betty Dean, McMinnville, TN., sisters-in-law, Clara Oakes, Dunlap, TN., and Ruth Essex, Pikeville, TN., grandchildren, Tammy, Holly, Hunter, Lisa, Jimmy, Casey, and Paul, 13 great-grandchildren, 13 step-great-grandchildren, several nieces, nephews, cousins and a host of friends.
A Celebration of Paul's Life will be held on Sunday March 1, 2015 at 1:00 p.m. CST with Bro. Tim Raney and Bro. Casey Oakes officiating. The family will receive friends beginning on Saturday at 6 p.m. Burial will be in the Blankenship Cemetery.
Please share condolences online at www.pikevillefuneralhome.com.
Pikeville Funeral Home entrusted with arrangements.
Read More
Cemetery Details
Location
Blankenship
Blankenship Cemetery Rd
Spencer, TN 38585