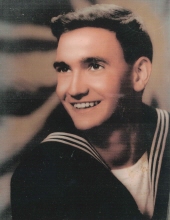 Obituary for Paul Leon "Sam" Dodd
Paul "Sam" Dodd, 69 of Pikeville died June 27, 2015. He was of the Methodist faith and attended Mt. Crest United Methodist Church. He was a veteran and served his country in the United States Navy. He was also a corporal with TDOC for 22 years. He enjoyed gardening, reading, mechanics, and playing with his grandchildren and his dogs.
He was preceded in death by his mother, Frances Montgomery, step-father, John Agnew Montgomery, grandmother, Hattie Hughes, 2 brothers, John Agnew Montgomery, Jr., and Randy Montgomery, and a sister-in-law, Talitha Montgomery.
Left behind to cherish Sam's memory are his wife of 44 years, Croshia Simmons Dodd, daughter; VeLynda Shae Dodd, both of Pikeville, son; Gabriel Lee "Gabe" Dodd, (fiancée, Kathy Smallwood), Jasper, TN., grandchildren; Kahadejah Mussared, Augustus Fitz, Marlee Loren Montez Gossett, Kylee Olivia Gossett, Zayden Huck Gossett, Noah Maddox Dodd, Reese Simmons Martin Dodd, and Logan Heath Smallwood, sisters; Dorothy Montgomery, Nashville, TN., and Judy (Stan) Tenneyson, Manchester, TN., brother; Roy Lynn (Gail) Montgomery, Birchwood, TN., several nieces, nephews, cousins and a host of friends.
A Celebration of Sam's life will be held Monday at 6p.m. Visitation from 1-6 p.m. Min. Brian Williamson will be officiating the service.
Arrangements entrusted to Pikeville Funeral Home.
Please share condolences online at www.pikevillefuneralhome.com.
Read More