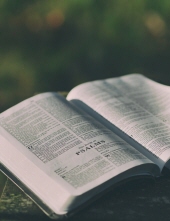 Obituary for Paul Warren
Paul Warren, age 84 of Rossville, GA and formerly of Pikeville, died, Saturday, August 17, 2019 with family by his side. Bro. Paul preached the gospel for over forty years, including three years at the Shady Vale Church of God. In his past time he enjoyed fishing, hunting, and golfing in his younger years. He was an Alabama football fan and enjoyed watching the games.
Preceding him in death was his wife, Gladys Christine Brookshire Warren; parents, Joe and Molly Roe Warren; grandchildren, Steve Lewis, Jr. and Crystal Annette Lewis; great-grandchild, John Bruce Holcoml; brothers, Robert, Billy, Earl, Johnny, and Charles Warren; sisters, Frances McGuire and Rena Lyda.
Bro. Paul will be dearly missed by his daughters, Connie (Steve) Lewis, Pikeville, Bobbie (David) DeBord, GA; son, Paul (Donna) Warren, Jr., Chattanooga; sisters, Faye McDaniel, Sarah E. Maynod, and Mera Lois Little; grandchildren, Tammie (Paul) Snyder, Billy (Amanda) Poe, Brooke (Mark) Conner, Chris (Brandie) Warren; twelve great-grandchildren; six great-great grandchildren; several nieces, nephews, cousins, and a host of friends.
A graveside service will be held at 6:00 pm CDT Sunday, August 18, 2019 in the McDowell Cemetery with Bro. Donnie Lawson officiating. There will be no visitation.
Condolences can be made at www.pikevillefuneralhome.com. Pikeville Funeral Home was entrusted with arrangements.
Read More