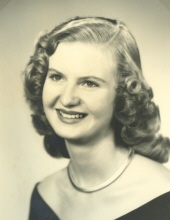 Obituary for Peggy Groves McDowell
Peggy Groves McDowell, age 83, passed away peacefully at her home on Wednesday, July 21, 2021.
Peggy was the daughter of the late Nan Griffith Dabbs Blake and the late Walter Dabbs. Born in Detroit Michigan on October 17, 1937, she was brought to Tennessee at age nine months and spent her life in Van Buren, Bledsoe, and Sequatchie Counties with seven years in Louisville, Ky.
Preceding Peggy in death were her husbands, Jim L. Groves and Lewis C. McDowell; grandson, James Patton Slemp.
She graduated from VanBuren County High School and attended both UTC and Tennessee Tech. She worked in several areas including the Tennessee Department of Corrections, the Tennessee Department of Parks, the old Sequatchie General Hospital, and others. She loved fun, pranks, and lots of laughs, but was also an avid reader of her Bible, the roots of early Christianity, the Hebrew scripture and their contributions to the world, especially the Ten Commandments Law of God and the redemption that is in Christ. She also loved to sing, play the piano, read and write poetry, watching western movies, and loved her family.
She is survived by her children, Ben (Brooke) Groves, Chattanooga, TN, Nanette Groves (Jerry) Smith, Pikeville, TN, and Becky Groves Slemp, Franklin, TN. She had six wonderful grandchildren, and two awesome great-grandchildren that she loved dearly.
A celebration of life will be 6:00 pm CDT Friday, July 23, 2021 at Pikeville Funeral Home. The family will receive friends 3:00 pm CDT until service time. A private burial will be held at a later date in the Chattanooga National Cemetery.
Condolences can be made at www.pikevillefuneralhome.com. Pikeville Funeral Home was entrusted with arrangements.