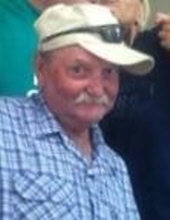 Obituary for Richard Allen Haston
Richard Allen Haston, age 76 of Pikeville, passed away Thursday, June 3, 2021 at his home. He was a devoted husband, father, grandfather and great-grandfather. His wisdom, love and memory will live on for many generations. Allen was a member of Calvary Freewill Baptist Church, and was an ordained minister. He had a passion for preaching and serving the Lord. In his pastime he enjoyed hunting and fishing.
Preceding Allen in death was his loving wife of fifty-five years, Sara Rose Harvison Haston; parents, Robert and Myrtle Mary Ann Irene Swope Haston; infant brother, Robert Lee Haston; sisters, Clata White, Jean White, Mary Elizabeth Akin.
Allen will be dearly missed by his loving children, Richard Alan (Liz) Haston, Jr., Elizabeth (Aaron) Guilbeau, Tonya Lea Gilbert, and Robert Glenn Haston; sisters, Jimmie Mae Moody and Nancy Scarbrough; brother, Steve (Sandra) Haston; eight grandchildren, Ryan, Jennifer, Charli, Ashley, E. J., Justin, Matthew, and Sydney, as well as thirteen great-grandchildren; special friends, Mike and Jennifer Musgrave; nieces, nephews, extended family and many dear friends that will miss him tremendously.
A graveside service will be 5:30 pm CDT Sunday, June 6, 2021 at Blankenship Cemetery with Bro. Darvin Oakes officiating. The family will receive friends 11:00am-9:00pm CDT Saturday, June 5, 2021 at Pikeville Funeral Home.
In lieu of flowers, the family ask donations be made to the funeral home to help with final expenses.
Condolences can be made at www.pikevillefuneralhome.com. Pikeville Funeral Home was entrusted with arrangements.