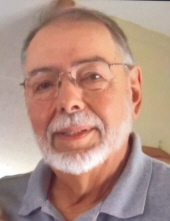 Obituary for Richard Lee Stotler
Richard Lee Stotler, Sr., age 78 of Pikeville, died May 25, 2022. Richard was a member of the Christian House of Prayer, enjoyed woodworking, riding motorcycles, playing the guitar, and singing gospel music.
Preceding Richard in death were his parents, Alonzo and Nora Wimberly Stotler; brothers, A J, Herb, Roy, Lloyd, and Floyd; sister, Betty Wicherson.
Left behind to cherish his memory is his wife of fifty-one years, Terena Dianne Rose Stotler; sons, Richard Lee (Crystal) Stotler, Jr., Crossville, TN and Brian Stotler, Crossville, TN; several nieces, nephews, cousins, and a host of friends.
A celebration of life will be 1:00pm CDT Sunday, May 29, 2022 at Christian House of Prayer. Burial will be in Blackburn Cemetery. The family will receive friends 12:00pm-7:00pm Saturday, May 28, 2022 at the church.
Condolences can be made at www.pikevillefuneralhome.com. Pikeville Funeral Home was entrusted with arrangements.
Read More