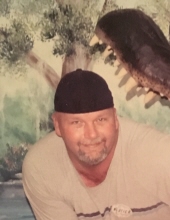 Obituary for Robert Monroe Narramore
Robert Narramore, II, age 44 of Crossville, died Friday, October 20, 2017. He was a member of the Church of Christ, loved hunting, fishing and his family. Robert worked at Taft for twelve years until it closed. Robert was a 1991 graduate of Auburndale Florida senior high school.
Preceding him in death was his father, Robert Lebrawn Narramore; mother Joyce Ann Luke Greeley; grandparents, Hershel and Elizabeth Reece Narramore.
Survivors include his wife, Carol L. Austin Narramore; step-mother, Leonda Melton Narramore; sons, Hayden Narramore, Crossville, Chad Davis, Crossville; sisters, Kristy (Jason) Owens, Pikeville, Doris "Sis" Twigg, Joyce "Teany" (Dave) Peraza; step-sister, Marina (Matt) Standland; brothers, Dustin Houghton, Greg Adamson, Clifford "Butch" Narramore; step-brother, Carey (Alyssa) Bussell, several nieces, nephews, cousins, and a host of friends with two special friends Danny Jones and Mark Smith.
The family will be celebrating the life of Robert at his home on Thursday, October 26, 2017 from 2:00 – 9:00 pm CDT.
Condolences can be made at www.pikevillefuneralhome.com. Pikeville Funeral Home was entrusted with arrangements.
Read More