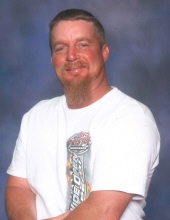 Obituary for Roy William "Junior" Smith
Roy William Smith, Jr., age 41 passed away on August 26, 2014 at an area hospital.
He was of the Baptist faith. Junior or JR as he was referred to was a logger by trade. Some of his favorite hobbies were going 4-wheeling and playing darts.
He was preceded in death by his paternal grandparents; Rhodes L. and Myrtle Elizabeth Smith, and his maternal grandparents; Loren Sr and Dora Novella Kimmel.
Left behind to cherish Junior's life is his daughter; Shelly Brook Smith, parents; Roy William Sr., and Carolyn A. Smith, sisters; Donna Jean Mooneyham and Joyce Ann Angel, nephews; Daniel Smith, Nicholas and Alexander Mooneyham, CJ (Jessyca) Angel, Justin (Jammie) Angel, niece; Alicia (Michael) Maddox, great-nieces; Renee, Allie and Clear, great-nephew; Brian, several aunts, uncles, cousins, and many friends.
A Celebration of Junior's life will be held in the funeral home chapel at 2pm on Sunday August 31, 2014 with Bro. Darrell Evans officiating. Burial will be in the Ben Smith Cemetery. The family will receive friends from 4 – 9 p.m. on Saturday.
In lieu of flowers the family has requested that memorial contributions be made to help them with his funeral expenses.