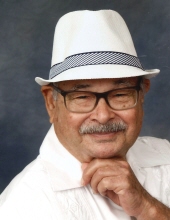 Obituary for Salvador "Sammy" Guerra
Salvador "Sammy" Guerra, age 83, of Pikeville, died August 11, 2021. Sammy served in the United States Army National Guard for over twenty-three years, worked for Tampa Water Department as Water Maintenance Manager, and was a member of Pikeville United Methodist Church.
Preceding Sammy in death was his wife, Joan Axford Guerra; parents, Rudy and Josephine Comparetto Guerra; son, Sammy Keith Guerra.
Sammy will be dearly missed by his sons, Rocky D. (Cathy) Guerra, James Nathan "Jamie" Guerra; sister, Regla Acosta; grandchildren, Amiee, Tiffany, Jayden, and Harmony; great-grandchildren, Erin, Aya, Landon, Dominic, and Cameron; several nieces, nephews, cousins and a host of friends.
A graveside service with military honors will be 10:00am CDT Monday, August 16, 2021 at Humble Cemetery with Rev. Gregory Smart officiating.
Condolences can be made at www.pikevillefuneralhome.com. Pikeville Funeral Home was entrusted with arrangements.