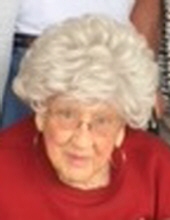 Obituary for Sarah Melba Spain
Sarah Melba Spain, age 98 of Pikeville, died Friday, April 20, 2018. She was a sports enthusiast, especially of college basketball. Her favorite teams were the Universities of Tennessee and North Carolina. Melba retired from the Boys Club of America in Winston-Salem, North Carolina where she had been the secretary and bookkeeper for many years. She was a 1938 graduate of Bledsoe County High School and a member of Emmanuel Fellowship Baptist Church.
Melba was preceded in death by her parents, Franklin and Maibelle Austin McWilliams; brothers, Jamie and Lee McWilliams; sisters, Genevieve Ewton, Geraldine Gray, and Tommye Agee.
She is survived by her son Jack (Martha Kincheloe) Spain, Raleigh, North Carolina; two grandchildren, Sarah Elizabeth Kincheloe-Spain (Chris)Wood and Griffin McWilliams Kincheloe-Spain(Wes) Barbour; one great-grandchild, Henderson Spain Wood; two special friends, Elizabeth Beavert Webb and Perry Seals; several nieces, nephews, cousins and a host of friends.
A celebration of life will be 1:00 pm CDT Wednesday, April 25, 2018 in the Pikeville Funeral Home Chapel with Bro. Pete Brown officiating. Burial will be in Pope Cemetery. The family will receive friends 11:00 am–1:00 pm CDT Wednesday, April 25, 2018. In lieu of flowers the family request donations be made to Amedysis Hospice 310 Kimball Crossing Drive Kimball, TN 37347.
Condolences can be made at www.pikevillefuneralhome.com. Pikeville Funeral Home was entrusted with arrangements.